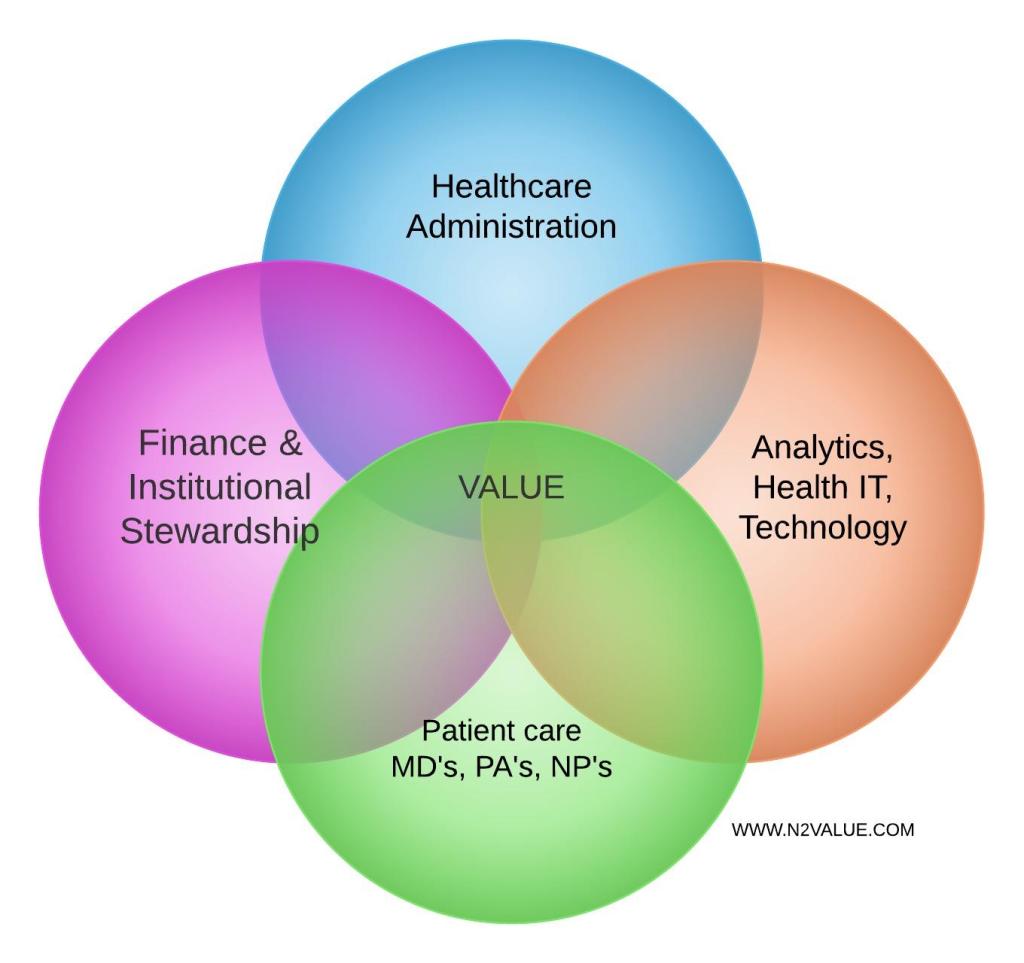 I am Stephen M. Borstelmann MD. I am Florida-based Board-Certified physician trained in Interventional Radiology. My practice has been rewarding both personally and professionally. I've diagnosed and treated as a practicing clinician, been a patient also, and held administrative roles. I'm also a father to three amazing kids. Before I was a physician, I was an options trader on Wall Street – a 'quant.'  I will admit that my background in Finance, Healthcare, Medicine, and Machine Learning is uncommon.
Our nation's healthcare system is being disrupted by many complex forces. At times, it seems to fail all of us. We are moving from a fee-for-service, volume-based healthcare delivery system to an outcomes-oriented, value-based system. The lines between patient and provider, physician and mid-level, hospital and insurer are blurring. Complex trends in demographics, disease, population health, technology, and economics underpin this change.
The image above shows the new value paradigm – at the intersection of patient care, technology, finance, and administration.
Technology has exploded – and can improve everyone's health and well-being. As an options trader, I used partial differential equations in six variables to price currency options in excel, and used brute-force optimization & data analysis to develop profitable trading systems.  As a practicing physician, I learned Six Sigma/Lean and operational analytics for Process & Quality improvement (PI/QI).  Curiosity about better tools for QI/PI than Excel led me to the R statistical programming language, which taught me more about supervised learning & data science. This looked a lot like the trading systems I used to develop on Wall St, but on steriods!  Then unsupervised learning, Andrew Ng's course, and a short hop to Convolutional Neural Networks, AlexNet, and current advances in computer vision, finally returning me to my roots as a radiologist.  Tensorflow is called through Python, so…
Statisticians, data scientists, entrepreneurs, startups, and large corporations are moving into the healthcare technology space. But where are the doctors? In-the-trenches physicians are consumed by daily patient care. But physicians need a seat at the table to protect the interests of patients, ethically, medically, and scientifically.  This is why I'm communicating what I've learned by this blog.  (and I'm really excited that more and more physicians & technologists are starting to want to learn about what I am speaking of)
There are questions I have that have yet to be answered.
Is it possible to be successful during this transition – to still deliver high quality patient-centric care while aggressively managing costs and meeting standards?
As an Interventional Radiologist, I want to 'see' better.  Can technology help me to do that?
I think the answer is a resounding "Yes" but "When?" and "How?"
As of 2017, the "When" appears to be happening faster than many of us thought, and the "How" is deep learning and artificial intelligence.  That's why I started the ai-imaging.org companion blog.
What's coming in the next 10-20 years in healthcare is going to be so strikingly different than what came before that much of it can't even yet be predicted. Assumptions will be challenged, sacred cows will be overturned, and those that cannot adapt will be pushed out. This is a Schumpeterian change.  The transition is already rocky. It will continue to be difficult. This blog exists to share knowledge and connect with other like-minded individuals.   Contact me on LinkedIn, follow me on Twitter, or Email me at: contact@n2value.com .

IMPORTANT: NOTHING IN THIS BLOG OR CROSS-POSTED ON SOCIAL MEDIA SHOULD BE CONSTRUED AS MEDICAL ADVICE, DIAGNOSIS OR TREATMENT, OR A PHYSICIAN-PATIENT RELATIONSHIP.  IF THIS IS AN EMERGENCY, OR YOU ARE UNWELL OR SYMPTOMATIC, YOU ARE INSTRUCTED TO IMMEDIATELY CONTACT YOUR PHYSICIAN, OR CALL 911.   I AM NOT A LAWYER, TAX EXPERT, OR FINANCIAL ADVISOR.  NOTHING IN THIS BLOG OR CROSS-POSTED ON SOCIAL MEDIA SHOULD BE CONSTRUED AS FINANCIAL OR LEGAL ADVICE.  YOU ARE DIRECTED TO CONTACT YOUR OWN ATTORNEY, TAX ACCOUNTANT, OR FINANCIAL ADVISOR FOR SPECIFIC ADVICE PERTAINING TO YOUR OWN CIRCUMSTANCES.  BLOG OR SOCIAL MEDIA FOLLOWS, SHARES, RETWEETS OR POSTS SHOULD NOT BE CONSTRUED AS ENDORSEMENT.  POSTS MAY BE MADE FOR ENTERTAINMENT PURPOSES ONLY. I RESERVE ALL RIGHTS TO POSTED CODE WHICH MAY ONLY BE USED FOR NON-COMMERCIAL RESEARCH PURPOSES ON AN AS-IS BASIS WITHOUT ANY WARRANTIES.
DO NOT POST PROTECTED HEALTH INFORMATION ON THIS BLOG.  PROTECTED HEALTH INFORMATION WILL BE DELETED.
PRIVACY POLICY:  YOU SHOULD ASSUME THAT ALL VISITS TO, PAGE VIEWS, OR POSTS ON THIS BLOG ARE PUBLIC INFORMATION AND MAY SUBJECT YOUR DATA OR META-DATA TO PUBLIC OR THIRD PARTY USE.
ALL WRITTEN MATERIAL COPYRIGHT© 2014,2015,2016,2017