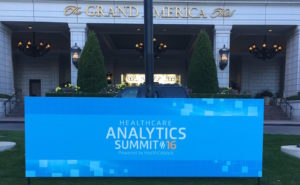 I was shut out last year from Heath Catalyst's Health Analytics Summit in Salt Lake City – there is a fire marshal's limit of about 1000 people for the ballroom in the Grand America hotel, and with vendors last year there were simply not enough slots.  This year I registered early.  At the 2015 HIMSS Big Data and Medicine conference in NYC, the consensus was this conference had lots of practical insights.
The undercurrents of the conference as I saw them:
Increasing realization that in accountable care, social ills impact the bottom line.
Most people are still at the descriptive analytics stage but a few sophisticated players have progressed to predictive.  However actionable cost improvements are achievable with descriptive reporting.
Dashboarding is alive and well.
EDW solutions require data governance.
Data Scientists & statistical skills remain hard to come by in healthcare & outside of major population centers.
A fascinating keynote talk by Anne Milgram, former NJ attorney general, showed the striking parallels between ER visits/hospitalizations and arrests/incarcerations.  In Camden, NJ, there was a 2/3 overlap between superutilizers of both healthcare and the criminal justice system (CJS).  Noting that CJS data is typically public, she hinted this could potentially be integrated with healthcare data for predictives.  Certainly, from an insurer's viewpoint, entry into the CJS is associated with higher healthcare/insured costs.  As healthcare systems move more into that role via value-based payments, this may be important data to integrate.
I haven't listened to Don Berwick MD much – I will admit a "part of the problem" bias for his role as a CMS chief administrator, and his estimate that 50% of healthcare is "waste" (see Dr. Torchiana below).  I was floored that Dr. Berwick appeared to be pleading for the soul of medicine – "less stick and carrot", "we have gone mad with too many (useless) metrics".  But he did warn there will be winners and losers in medicine going forward, and signalling to me that physicians, particularly specialists, are targeted to be losers.
David Torchiana MD of Partners Healthcare followed with a nuanced talk reminding us there is value of medicine – and that much of what we flippantly call waste has occurred in the setting of a striking reduction in mortality for treatment of disease over the last 50 years.  It was a soft-spoken counterpoint to Dr. Berwick's assertions.
Toby Freier and Craig Strauss MD both demonstrated how analytics can impact health significantly while reducing the bottom line, on both the community level and for specialized use cases.  New Ulm Medical Center's example demonstrated 1) the nimbleness of a smaller entity to evaluate and implement optimized programs and processes on a community-wide basis while Minneapolis Heart Institute demonstrated 2) how advanced use of analytics could save money by reducing complications in high cost situations (e.g. CABG, PTCA, HF) and 3) how analytics could be used to answer clinical questions that there was no good published data on. (e.g. survivability for 90 year olds in TAVR)
Taylor Davis of KLAS research gave a good overview of analytics solutions and satisfaction with them.  Take home points were that the large enterprise solutions (Oracle et al.) had lower levels of customer satisfaction than the healthcare specific vendor solutions (Healthcatalyst, qlik).  Integrated BI solutions within the EHR provided by the EHR vendor, while they integrated well, were criticized as underpowered/insufficient for more than basic reporting.  However, visual exploration services (Tableau) were nearly as well received as the dedicated healthcare solutions.  Good intelligence on these solutions.
The conference started off with an "analytics walkabout" where different healthcare systems presented their success and experiences with analytics projects.  Allina Health was well-represented with multiple smart and actionable projects – I was impressed.  One project from Allina predicting who would benefit from closure devices in the cath lab (near and dear to my heart as an Interventional Radiologist) met goals of both providing better care and saving costs through avoiding complications.  There was also an interesting presentation from AMSURG about a project integrating Socio-Economic data with GI endoscopy – a very appropriate use of analytics for the outpatient world speaking from some experience.  These are just a few of the 32 excellent presentations in the walkabout.
I'll blog about the breakout sessions separately.
Full Disclosure: I attended this conference on my own, at my own expense, and I have no financial relationships with any of the people or entities discussed.  Just wanted to make that clear.  I shill for no one.